You take your 'normal' sized dog to the vet with an 'ouchie'. To keep him from biting at said 'ouchie' your vet will probably give you the Elizabethan Collar like the following picture depicts:
When your dog is a 'large' breed dog maybe your vet doesn't have a Elizabethan Collar big enough for his big ole 34" neck. Maybe your vet will get creative to find something to go around that big ole neck. Maybe your vet will come up with something like this: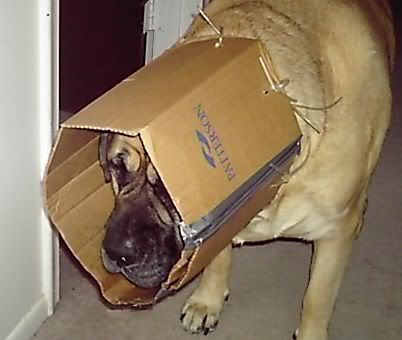 Poor guy!
Side note: this is not my dog. But it is a friend of my sister in law's dog. It is not some cruel sick joke to rid a large dog of his peripheral vision.